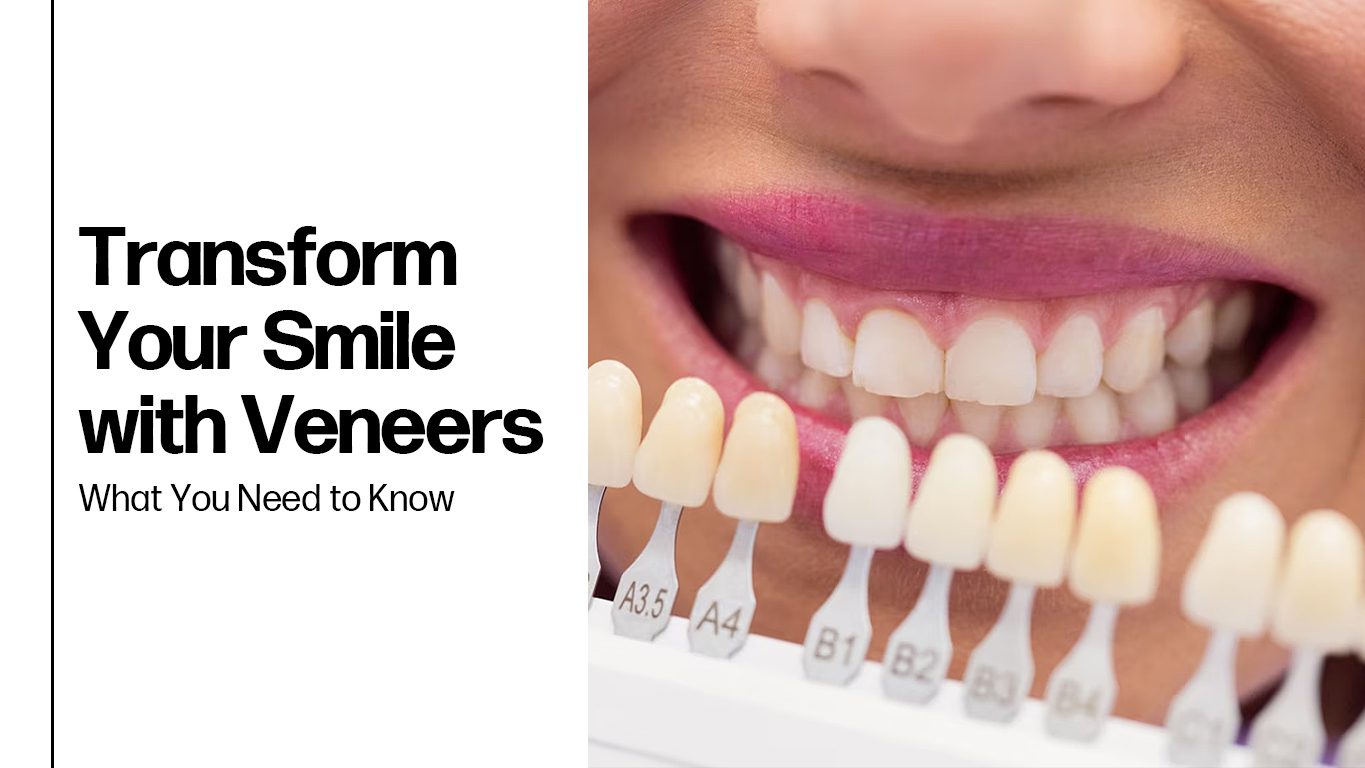 If you're looking to enhance your smile and boost your confidence, veneers might just be the perfect solution for you! With their ability to conceal various dental imperfections, these custom-made porcelain or resin shells can help achieve that picture-perfect Hollywood smile in no time. So, why not transform your grin with veneers? In this post, we discuss all that you need to know to help you transform your smile with veneers. Let's dive right in!
Introduction to Veneers
Today, veneers stand as one of the most sought-after cosmetic dental treatments. These custom-made, thin shells are specifically created to cover the front surface of your teeth, delivering a striking transformation to your smile. Whether you opt for porcelain or composite material, veneers can be an exceptional solution for enhancing your overall dental appearance.
If you're contemplating veneers, it's essential to seek the guidance of a qualified cosmetic dentist. Through a comprehensive consultation, your dentist will evaluate your specific requirements and determine whether veneers are the ideal choice to fulfil your desired outcomes.
In case you opt for veneers, your dentist will obtain precise impressions of your teeth to make tailored shells that seamlessly fit over the front part of your teeth. After crafting your veneers, they will be firmly attached to your natural teeth using a potent adhesive.
Veneers offer an attractive and genuine-looking smile that you'll be delighted to flaunt. If you have any queries regarding veneers or would like to arrange a consultation, feel free to get in touch with our clinic right away.
Benefits of Dental Veneers
Veneers are custom-made prosthetics that are designed to cover the front surface of your teeth, hiding any imperfections such as chips, cracks, or stains. They also correct misaligned or uneven teeth, giving you a perfect smile. With veneers, you can enjoy a beautiful, flawless smile that enhances your overall appearance.
Unlike other dental treatments, veneers require minimal maintenance. You can continue to brush as well as floss your teeth as usual, and with regular dental checkups, you can ensure the longevity of your veneers.
If you are looking for a quick and effective solution to hide dental imperfections, dental veneers are an excellent option. They can conceal a range of issues, such as chips, cracks, stains, and misaligned teeth, giving you a flawless, stunning smile. With veneers, you can achieve a natural-looking appearance that enhances your overall facial features. This painless and minimally-invasive treatment can transform your smile and boost your self-confidence in just a few visits to your cosmetic dentist.
Veneers possess the remarkable ability to revolutionize your life, restoring your self-assurance in the process. By enhancing your smile, they hold the power to uplift your confidence to new heights. A captivating grin can work wonders, not only for your self-esteem but also for your social standing. When you choose veneers, each morning, as you gaze into the mirror, you will be greeted by a flawless smile that instantly elevates your self-worth. Embracing your beautiful smile, you can confidently express yourself without concerns about others' opinions regarding your teeth. With veneers, you can liberate yourself from concealing your smile, freely share your thoughts, and radiate positivity without the fear of being judged.
Preparation for Treatment
When you arrive at our office for your initial consultation, we will discuss your desired results and your treatment options. Once you have decided to move forward with treatment, we will need to prepare your teeth for veneers.
Removing a Small Amount of Enamel
The first step is to remove a small amount of tooth enamel from the surface of your teeth. This is necessary to create a natural and comfortable fit for your new veneers. We will use a local anesthetic to numb the area and keep you comfortable during this process.
Next, we will take digital impressions of your teeth. This allows us to create custom veneers that are specific to your smile. We will also use these impressions to create a temporary set of veneers for you to wear while your permanent ones are being made.
Bonding Veneers Securely in Place
Once your permanent veneers are ready, we will bond them securely in place. You can expect some minor discomfort and sensitivity after this procedure, but it should go away within a just a matter of days as you adjust to your new smile!
Recovery After Treatment
It's paramount to take care of your teeth after treatment to ensure your veneers last. Here are some tips for recovery after treatment:
Avoid hard foods and chewing on ice or hard candy to prevent damage to your veneers.
Brush as well as floss regularly to keep your teeth and gums healthy.
If you have any pain or discomfort, contact your dentist right away.
See your dentist on a regular basis for check-ups and cleanings.
Visit Bayswater Dentist for Dental Veneers
Dental veneers offer a multitude of benefits that can greatly improve your smile and boost your confidence. Through cosmetic enhancements, durability, easy maintenance, psychological advantages, and personalized treatment, veneers present a valuable long-term investment for both your oral health and overall well-being. It is important to seek guidance from an experienced cosmetic dentist to assess whether veneers are the right choice for you. By opting for veneers, you can achieve a breathtaking smile that looks natural and authentic, empowering you to proudly showcase it with confidence.