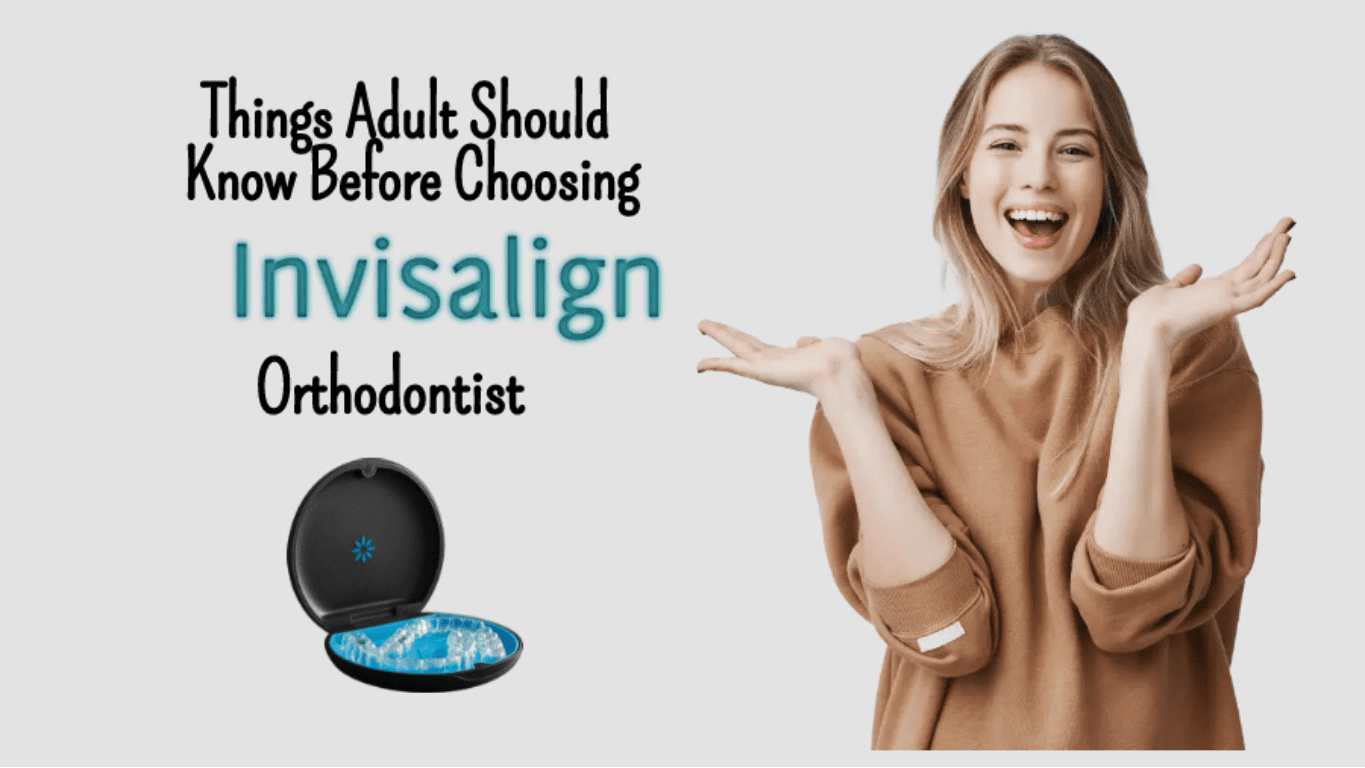 The Invisalign treatment is a great alternative to traditional braces for those who want to straighten their teeth without the conspicuousness of metal brackets and wires. But when it comes to choosing an Invisalign orthodontist, there are a few things adults should keep in mind. This blog post will explore some of the things adults should know when choosing an Invisalign orthodontist. From experience and training to reviews and costs, we will cover everything you need to consider before making your decision. So if you're considering Invisalign, read on for more information!
Experience
When choosing an Invisalign orthodontist, it is important to consider their experience. An experienced Invisalign orthodontist will deeply understand the treatment process and can effectively customize treatments to meet each patient's specific needs. They will also be familiar with the latest Invisalign technology and will be able to utilize it to its full potential.
Technology
The technology used by Invisalign is constantly evolving, which means that there are always new things to learn about the treatment. When choosing an Invisalign orthodontist, it's important to make sure that they are up-to-date on the latest technology and treatments.
One of the most vital aspects of Invisalign treatment is the ability to use 3D imaging to create a custom treatment plan. This allows your orthodontist to see exactly how your teeth will move during treatment and ensure that you get the best possible results.
Another important consideration is the use of Digital Smile Design. This technology can help you better understand what to expect from your treatment and see how your new smile will look before you even start wearing your aligners.
When choosing an Invisalign orthodontist, be sure to ask about their latest technology and treatments. This will help you make sure that you're getting the best possible care.
Online Reviews
When it comes to choosing an Invisalign orthodontist, online reviews can be a helpful way to narrow down your options. However, have it in mind that reviews are not all created equal. Below are a few things to keep in mind when reading online reviews for Invisalign orthodontists:
– For starters, take the time to read multiple reviews. This will help you get a well-rounded idea of what others think of the orthodontist.
– Look for patterns in the reviews. If most people are saying similar things (positive or negative), there's likely some truth to it.
– Be wary of extremely positive or negative reviews. It's possible that these are fake reviews written by the orthodontist themselves or someone they know.
– Finally, trust your gut! If something doesn't feel right about an orthodontist based on their online reviews, it's probably best to look elsewhere.
Certifications
Check whether or not the orthodontist is certified. The Australian Orthodontics Board offers certification for orthodontists who have met specific educational and clinical requirements. This certification is important because it assures patients that the orthodontist has the necessary skills and knowledge to provide quality care.
Proximity to your home or work Place
Choose an orthodontist who will be convenient for you. After all, you'll need to see them fairly often for check-ups and adjustments.
Fortunately, there are several great Invisalign orthodontists out there. You should be in a position to find one within a reasonable distance from your home or workplace. Once you have found a few candidates, now do your research and make sure they're reputable and have experience with Invisalign.
Does the Office Atmosphere make you feel comfortable?
A comfortable office atmosphere is important for any type of medical procedure, but it is especially important when choosing an Invisalign orthodontist. You want to feel comfortable with the staff and the environment so that you can relax and focus on your treatment. Below are a number of things to look for in a comfortable office atmosphere:
– The staff at an Invisalign office should be friendly and welcoming. You should feel like they're taking the time to get to know you and your needs.
– The office should be clean and well-organized. This shows that they take pride in their work and want their patients to have a positive experience.
– If you have any concerns, the staff should be able to address them comprehensively. They should also make sure you understand everything before moving forward with treatment.
– There should be plenty of comfortable seating in the reception area.
Satisfaction of the Previous patient
One way to gauge an orthodontist's experience is to ask about their previous patients' satisfaction levels. An experienced orthodontist will provide you with stories and testimonials from past patients who were happy with their Invisalign results. They should tell you about specific cases where Invisalign addressed the patient's concerns and gave them the smile they always wanted.
If an orthodontist cannot provide you with this type of information, it may be a sign that they're not as experienced with Invisalign as you'd like them to be. Choose an orthodontist who you feel confident will be able to give you the best possible results.
Payment Options
Ask about payment options: Invisalign treatment can be costly, so be sure to ask about payment options up front. Many orthodontists offer different financing plans that can make the cost more manageable.
Bottom Line
As an adult, you have the unique opportunity to choose your own orthodontist and treatment plan. You should feel comfortable with your choice of an orthodontist, and you should be confident that they have the experience and expertise to give you the best possible care. When choosing an Invisalign orthodontist, be sure to ask about their experience with the procedure and their success rate. With the right orthodontist, you can achieve a beautiful, healthy smile that will last a lifetime.
It might take a bit of some time to get the best orthodontist, but considering the overall results, the effort is worth it. Visit us at Bayswater Dentist to have your Invisalign treatment. Our dentist is well-experienced and will be happy to answer any of your questions.